Testimonials
A small selections of Testimonials received by Annie's Healthcare Services CIC:
I would just like to thank all your staff that were involved in my mums' care over the last couple of years.  She couldn't have asked for better help from everyone of you.  You've all been so kind and patient with her even though she can be quite difficult at times.  Once again, thank you all so much I wouldn't hesitate to recommend your agency for the care you give to the elderly.
June 2021
I cannot speak too highly of the care which Annie's gave both my father in his last couple of years, and after he died in 2011, to my mother, allowing her to stay at home until she died in December 2018. As an only child and Mum and Dad's only relative able to help, living nearly 300 miles away, I knew I could rely on them, not only for routine care but for all aspects of their wellbeing including times when Mum or Dad were in hospital as well as when they were at home. Zainab and Lesley were pro-active in dealing with GPs and hospitals, and advising me on all sorts of matters, and I knew I could trust them to check on things regularly, deal with any crisis, and keep me informed and involve me in decisions. Mum's life was longer by several years, and happier, because of their care and watchfulness and expertise, for which I will always be grateful. They very much live up to the idea of caring for the whole person, and many of the carers employed by the firm have shown immense dedication, cheerfulness and patience and made Mum's last years so much better than they would otherwise have been, not least in terms of providing company and simple human warmth.
February 2020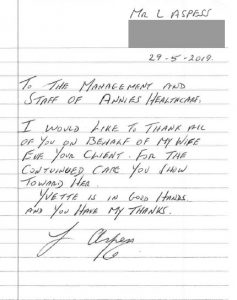 Len (Husband) Gants Hill May 2019
The following views have been expressed by various service users, their families, relatives, staff and other professionals to the CQC Inspector and these extracts have been taken from the latest CQC report.
Extracts from CQC report June 2018
One person said "Yes I feel safe when the carer's are around"
Another said "The carer's encourage me to do what I can and help me with other things."
One relative said "The manager keeps in regular contact with me and they always let me know what is going on."
A staff said "The training courses are very informative."
A health professional we work with had this to say "Many thanks to you and your team for all of your help.  It makes a real difference to work with such dedicated and professional carers".
Extracts from CQC report August 2016
One person told us "The girls are very good, they know what they are doing, I am happy with the way they look after me and do not have any concerns."
One relative said "I am so grateful to have the help from the girls, my father is so much better.  They look after him very well and I can't fault them."
A relative said "The girls are marvellous I will speak to the manager if I am not happy about something, it is a good agency."
A staff told us "I've done a lot of training and this has helped me to get better at what I do."
Extracts from CQC report March 2014
One person told us "The staff are very approachable and very caring." Another person told us "They are always at the end of a phone."
One person told us "Nothing is done without consulting us first." Another said "The service is incredible."
A staff told us "They care for me."
Dear Zainab and all Staff at Annie's
Just a line to thank you and your staff for the brilliant service you have given to Suzanne over the years. We do really appreciate the work you do for Suzanne. Finally we would not hesitate to recommend you and your company to anybody that needs care and support.
Parents Syd and Leila, Dagenham
February 2011
Note from Annie's – "It is testimony of the good care and support we provide that Suzanne remains with the company to this day"